Zimbabwe
Simbarshe and Memory Gondo
Children: Laura, Lowell, Leal and Lestor
Village: Bazel Bridge
Simbarshe (Simba) and his family live in a small rural village in Zimbabwe, Africa. The country of Zimbabwe has been ravaged by a ten-year drought and famine as well as economic instability. In addition to preaching for two congregations, Simba and his family have been able to help their congregation and community in many ways. Here are a just few of the things they have done in the past and continue to provide:
Made thousands of bricks by hand to be used to construct the church building
Grew a garden to provide food for those in need.
Raised goats and chickens to provide milk and eggs.
Simba is also hoping to have a well dug on the church property in the near future so that the people of his village can have clean drinking water.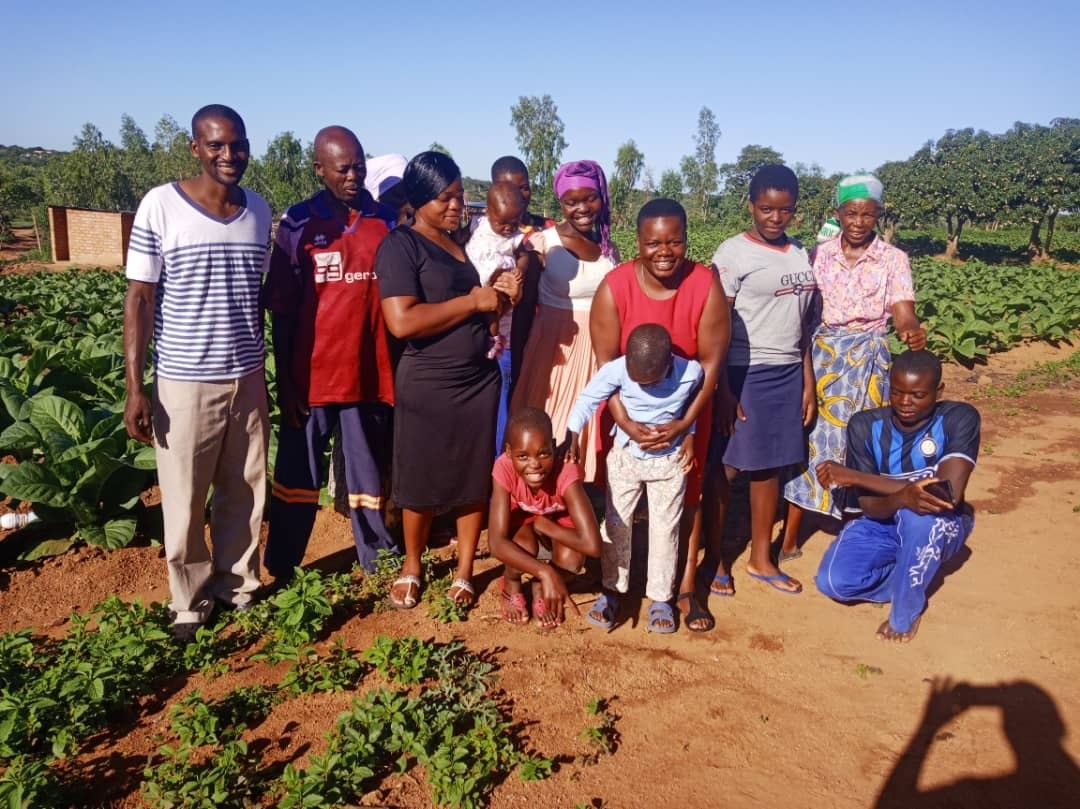 Simba and Memory's extended family
Nhamo and Esther Mumba
Nhamo and Esther Mumba live in a village near Bazel Bridge. They have three sons: Providence, Prosper and Peace. Sadly, their second son, Promise went to be with the Lord on March 6, 2012 when he was 11 years old.
Nhamo attended primary and secondary school in Harare then went on to attend Rusiti Bible College. He also attended the Mutare School of Preaching from 2001 - 2003.
In addition to preaching the Gospel, Nhamo also is learning farming techniques and grew a healthy crop of corn during the 2021 growing season. This corn provides a much needed food source for his family as well as the poor members of his congregation.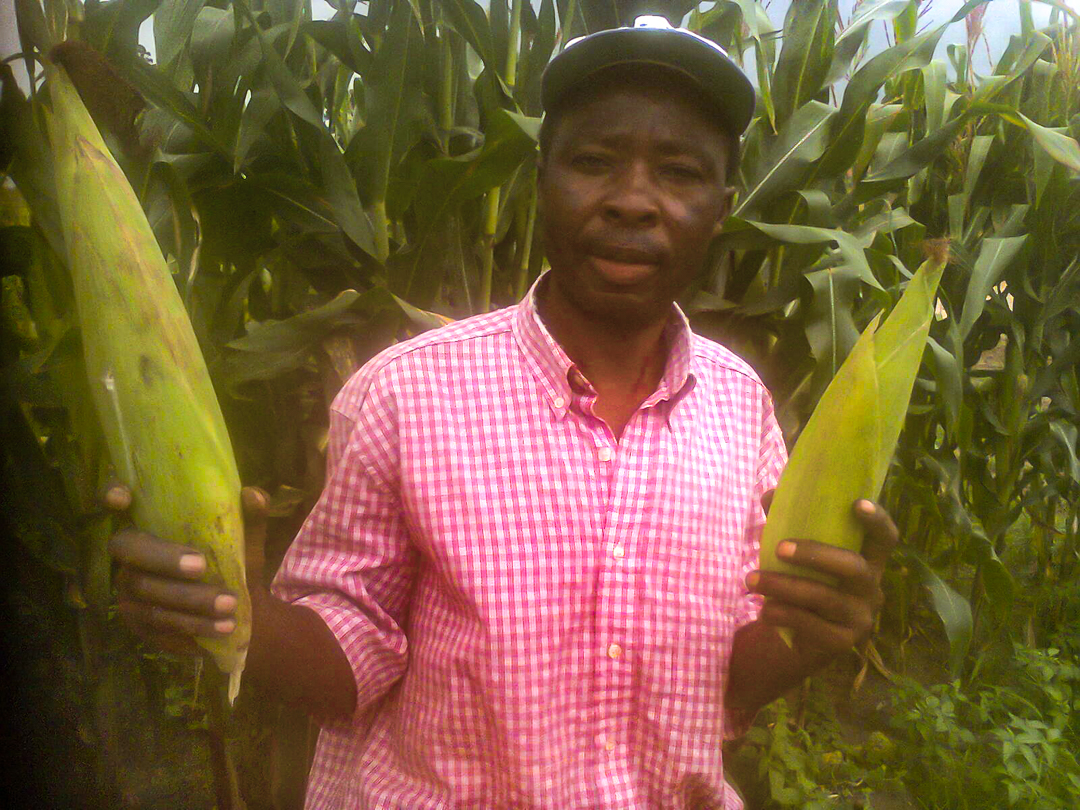 Nhamo and his corn
August 2022 Report - Mushunje and Bazel Bridge
OC Zimbabwe Mission (Simba) • September 06, 2022
Grace mercy and peace to you from God the Father and our Lord and savior Jesus Christ
I was busy the whole month because there were some National Fellowships for the youths, men and women the second week till the end of the month. Not much wind was experienced this month but it was very cold as we received some showers of rain.
The first week
l attended funeral of a backsliding man who confessed, then after two days he was called home. His wife was faithful in the Lord's church. Thank God the man at last confessed.
The 3rd day
l attended a pre-school drama and music at Divine Heritage school where Leal is going. I was chosen to pray. Leal is doing good in all his work, he performed very well as he promises to be very intelligent. Laura did well in her end of term as she got number 2 and passed all her subjects. Lowell did not do well in English and Heritage, he got number 23. During the holidays we sent him to attend some extra lessons and now he is working hard.
On the 4th
l footed to Derembwe church of Christ to witness the burial of Br Dzobo aged 75 years who died after a long sickness. He was an HIV/AIDS patient. It is 10km east of Bazel. We were 12 preachers attended including Br Kanchefu, Gwazaza, Tiyani, Marunga, Nyandoro, Gushure, Chimanga, Mushonga, Dhlamini, Mazenza and me. Br Kanchefu preached and Br Mushonga lead the singing. People who attended were 1500.
On the 6th
l went to Mupudzi church of Christ alone for a men's lectureship. Men at Bazel were very committed at their work. We learned good lessons that targeted our duties and roles, we were 30 and we had a great fellowship. Preachers who were present were Br Mushati, Tanhera, Gushure, Chimanga, Siwedi, Zimwasha and me. We had a great moment.
On the 9th
Together with my family, we visited my parents and saw all the activities they are doing. They were very happy to see us and my mother prepared a rooster for us. We had a great moment.
Br Tawanda attended an interview at Mutare school of preaching and he was accepted as a student for next year's intake. The school requested $50 as acceptance and promised to give a scholarship because of his background.
The 10th Br Shalom's wife visited us as we counseled her to attend the church services and to encourage her husband to be committed in the Lord's church. She accepted and promised to do something in the presence of God.
On the 12th
Together with my wife and kids we attended a heroes day in Bazel heroes acres. The children were happy to see some activities practiced.
On the 11-14th
The church sent some youth to attend a National Fellowship at Baring in Mutare town. Youths who attended were Tanaka Buzuzi (girl 15), Vannesa Kanyimo (girl 15), Nomalanga Chinzvende (girl 15), Zvikomborero Gutukunuhwa (17) and his bro Takudzwa (12). Br Chadzingwa followed them as the father advisor. The theme was "Power Up". There were more than 1000 youth present and they were very excited about what they experienced.
On the 19-21st
Three men at Bazel Br., Chadzingwa, Buzuzi and I, attended a National Fellowship at Nhowe Mission Church of Christ in Macheke, 200km northwest of Mutare. The theme was Breaking the chains. 450 attended. We had a great moment and listened to great preachers who were selected to preach. On Saturday afternoon we went to the ground to play soccer. Mutare won the game as l scored a penalty which was the winning goal.
On the 25th
l went to Sakubva church of Christ alone to listen to some good lessons about leadership from Br. Jerry Betts, who is the director of voice of truth books. He was accompanied by two lndians Br. Philemon and Br. Kingsley who encouraged us to hold fast in the work of God. We had a blessed moment.
On the 25-28th
The women attended a National Fellowship held in Nhowe Mission Church of Christ again. Four women at Bazel attended including sister Chin'ono, Mandianike, Buzuzi and my wife. The theme was "Who will roll away the stone?" (Mark 16:3-4). Sister Mafusire was supposed to preach on the program but she was occupied so she assigned my wife to preach about "The stone of the economic challenges" (John 21:3-6). With prayer and fasting, she did a great job and she was successful to preach at a multitude of 1000 ladies. It was a great honor. Dr Mugweni phoned me and thanked her for the great job she had done. Years back we had much challenge of attending these national events since my wife was working away but by the grace of God we are happy in the work of God.
I discovered something when I saw the number of people at Bazel who attended the fellowship. Some did not attend due financial constraints. We were three men who attended like Shadreck, Mishek and Abedinigo. The ladies were four as the three men were in the blast furnace the son was seen among them to make them four. I want to thank all the effort we did for the national events we attended.
I want to thank you for the love you showed and support may God bless you all.
Yours ln Christ
Simbarashe Gondo
Gondo
Read more
September, 2022 Mission Report from Nhamo and Esther
OC Zimbabwe Mission (Nhamo) • October 04, 2022
Christian greetings to you all brethren. We hope and trust that this report finds you all in good health.


CLIMATIC CONDITION
It was hot throughout the entire month of September, 2022. Many of the farmers are now preparing their fields awaiting the raining season. We understand the country is already struggling to feed the starving people. Pray that the Lord may give us more rains this year.


LIFE IN ZIMBABWE
life in Zimbabwe is generally becoming too tough and characterized by high unemployment, power cut shortages, high rate of robbery due to high unemployment. Poverty is rife and the population is battling to make ends meet. Most people in my poor community survive by 'hustling' -buying and selling whatever they can lay their hands on. Generally, it is common to see women sitting at shopping area or moving around in homes carrying baskets full of lemons, vegetables or tomatoes trying to sell. Some gather wild fruits pick from surrounding bushes while some pick up used plastics bags and wash them for reselling. In town men beg to clean your vechicle for a small fee. Despite all these hardships, we still soldier on preaching the gospel, comforting and pray for the affected people.


EVANGELISM WORK
On the first two weeks of September, 2022 we were busy doing our door to door knocking. We thank God that most of the people we met were all eager to give their time in listening to the God's word. Some had requested us to revisit them. Pray that the Lord may open their hearts to the gospel.


INVITATION
On the 18th of September, 2022 I was invited to go and preach at Mhembwe Church of Christ a congregation I once preached for from 2012 to 2015. I had a wonderful time meeting with entire congregation after a long time. I taught adult Bible class and preached on main service.


COMMUNITY FUNERALS
We had a quite a big number of funerals which I attended during a month under review. Most of these funerals were of our young people had been killed in South Africa. We have a big number of Zimbabweans working in South Africa.


BIBLE STUDY
During the month of September, we had some rotations in the homes of our members for a Bible study. We had been studying the book of Acts 8 through chapter nine.


PREACHING/BIBLE CLASS, ATTENDANCE AND GIVING
I preached for three Sundays and taught Bible class. Our average attendance for the month was 12 to 14. Our giving was $20 USD plus $1000 Zim dollars which equivalent to $1. 50 .


PRAYER REQUESTS
Pray for my son Prosper who started writing his final graden seven exams on the 26th of September to the 10th of October.
Pray for our mission work as well as our country leaders
pray for the upcoming general election next year for peace.
Above we want to thank you for your prayers,love and support for our mission work in Zimbabwe.
Yours in Christ.
Nhamo and Esther Mumba
Read more